American Leak Detection Inaugurates Regional Corporate Office in South Florida with Ribbon-Cutting and Open House on July 24, 2015
PRESS RELEASE - FOR IMMEDIATE RELEASE
July 10, 2015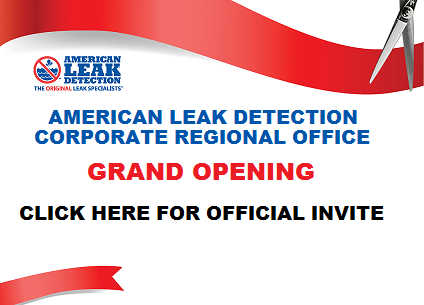 American Leak Detection, the nation's leading non-invasive water leak detection and repair company is expanding its corporate presence in South Florida with the opening of a Regional Center. The Regional Center will support a wide range of water leak detection solutions for residential, commercial and municipal customers. With proprietary methodologies and cutting-edge infrared and acoustic equipment, highly-trained American Leak Detection service professionals pin-point the exact location of hidden leaks ranging from swimming pool cracks to underground plumbing systems and sewer lines.
Insurance Companies, Agents, Adjusters, Pool Companies, Restoration Contractors, Plumbers, Property Managers and members of the community are all invited to join the celebration Friday, July 24, 2015, from 12pm - 6pm at 10001 NW 50th St. Suite 204 Sunrise, FL 33351. Lunch will be provided from 12:00 pm to 2:00 pm with appetizers and beverages being served all day. American Leak Detection franchise owners from across Florida will be attending to thank our business partners both current and prospective.
"We have expanded across 42 states of the US, England, Canada and Australia by providing five star service to our customers," stated Dr. Patrick DeSouza, American Leak's Chief Executive Officer. "Our work with insurance companies and property management companies is doubling as regulatory and cost pressures mount with respect to water loss. We have outstanding franchisees with expert technicians operating successfully in virtually every county in Florida and with this office we are supporting their growth with additional execution capability, business development staff and a training center to supply more service professionals."
Additional Contact for Insurance Adjusters:
American Leak Detection
Lisa Keeton, 760-399-7187
lkeeton@americanleakdetection.com
www.americanleakdetection.com
This box is for content to go under the icon list if you're using it.