Vinyl Liners for Your Pool
American Leak Detection of West Central Florida Has You Covered!
Highly water-resistant and sealed at the top near the deck, vinyl liner is a great sealant and alternative to plastic for your pool. However, it is not impervious to normal wear-and-tear, damage, and other problems. Given enough time or abuse, your pool's vinyl liner will start to need some attention, repairs, or total replacement.
To get fairly-costed and professionally-done vinyl liner repairs, call (352) 397-4059 and connect with American Leak Detection of West Central Florida. Our leading industry experts show up on time, don't leave a mess behind, and always offer transparent, honest pricing on all jobs. In other words, we are the first and only team of professionals you should count on for all your pool vinyl liner needs! Request your free job estimate today.
Professional Repairs for Damaged Vinyl Liner
Your pool's vinyl liner will start to show you if it has suffered damage, if you know what to look for. The same is true if a problem arises with your pool's vinyl liner due to it being installed incorrectly.
Before: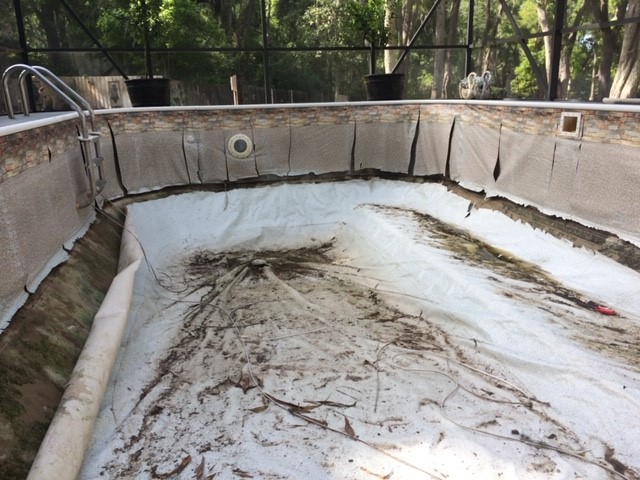 After:
Give us a call at (352) 397-4059 if you notice your pool's vinyl liner is:
Leaking
Coming out of the track or bead
Turning brittle
Fading into a pale color
Bulging
Wrinkling
Experiencing dry rot
Cracking due to root intrusion
As our name implies, we are industry leaders when it comes to leak detection of all sorts. If there is a leak in your pool's vinyl liner, then you can trust us to find it and fix it, no matter its source. Not only are we highly skilled in finding leaks in pools, pipes, and other water systems, we can do so without destroying your property. Our minimally invasive methods, attention to detail, and vast industry knowledge mean we can get find the problem and correct it with ease.
Contact us onlineor request an vinyl liner repair today to begin.