Louisville Gas Line Leak Repair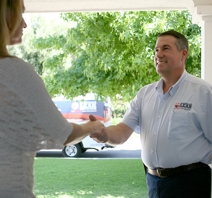 Did you know that gas lines play a vital role in the function of your home? They power ovens, stoves, and water heaters without much fuss. You probably don't even give your gas lines a second thought until there's an issue. The issue is usually caused by normal wear and tear over time. Still, if you have a broken or cracked gas line, it could be putting you and your loved ones at risk.
American Leak Detection of Louisville provides affordable gas line repair services. We are more than just pool leak detection specialists. We are skilled and have extensive training in repairing gas line issues when they happen. You can rest assured that we'll locate the problem. We do this with minimally invasive techniques. We then present viable repair options, and deliver long-lasting results.
Give us a call at (888) 524-2504 or request an appointment online for help with gas leak detection!
Gas Line leak Repair near you
You can do everything in your power to ensure your gas lines are intact long-term. But, you may still experience leaks because of age. Gas lines deteriorate over time. This can cause several unwanted and dangerous situations for you and your family.
Broken/cracked lines can cause:
Harmful fumes to seep into your home
Excessively high utility bills
Dangerous physical symptoms, such as dizziness, headaches, and blackouts
Your gas light to continuously blow out
Gas leaks are no joke. They are virtually impossible to detect, because there is no smell. Our certified Louisville gas line repair pros are ready to fix gas leaks. We use state-of-the-art equipment and years of knowledge.
As a locally owned and operated leak detection company, we're backed by a brand that's been in business since 1974. This means you get highly qualified, home-grown technicians trained by the best in the industry.
What are the Signs of a Gas Leak?
Natural gas is colorless and odorless, so the signs of a gas leak oftentimes aren't very obvious. There are some things you can watch out for:
1) Dead Indoor Plants - Exposure to gas can kill house plants. If you find that your house plants are turning brown or drooping for no apparent reason, a gas leak could be the culprit.
2) Dead Outdoor Shrubbery - Check the shrubbery near your furnace or check for brown grass on your lawn. These can happen if there's a gas leak near the furnace or along the gas line on your property, respectively.
3) Mist or Hissing Sounds - You may see mist hovering over an area of your yard where a gas leak occurs. You may also hear hissing sounds (indoor or outdoor) which is the sound made when gas is leaking from a pipe.
4) Smell of Sulfur or Rotten Eggs - Sometimes, gas has an additive that gives it an odor. This odor usually smells like rotten eggs or some other unpleasant scent to help people know that there is gas present.
If you experience any of these problems, call a gas leak detection specialist. They will let you know if there's a gas leak present or any risks of a leak happening. Don't take chances - let American Leak Detection of Louisville give you the peace of mind you deserve!
If you think you have a gas line that needs repairing, please don't hesitate to call our gas plumbers near you at (888) 524-2504 or reach out online.