Sewer Camera Inspection Services in Fort Myers
Is Sewer Camera Inspection Worth It?
The idea is fairly simple: we insert a very small camera into your sewer lines. We then guide it through on a rod to get a comprehensive look at the pipes. This allows us to find what's causing problems without having to dig up your yard. If we detect an issue, we offer non-invasive repairs as well.
Your sewer lines carry large amounts of waste and water out of your home every day, this typically leaves them susceptible to damaging forces - our camera inspections can easily reveal a number of common problems & issues, including:
Blocked Sewer Lines
Root Intrusion
Cracked Lines
Leaks In Pipe Joints
Corroding Or Deteriorating Pipes
Our cameras not only uncover problems, but they also allow us to detect exactly where the problem is. This is beneficial for several reasons. Knowing where the problem is means we can cause minimal disruption to your property. We can then fix the problem faster, and minimize the cost of the repair.
Get professional sewer camera inspection services near you. Call (941) 803-1391 now or request an appointment online.
How to Tell If Sewer Pipe Is Leaking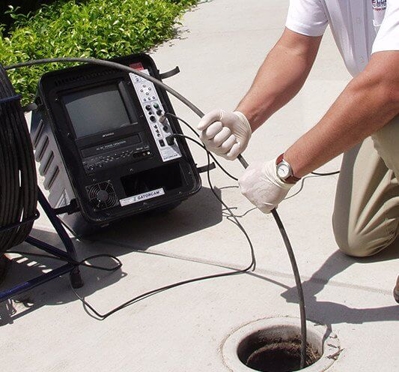 Do you suspect that you have a leak somewhere in your sewer lines? Being that these lines are underground, it's never easy to know. The team at American Leak Detection of Southwest Florida has the tools and technology to uncover any sewer line problems. We are a leak detection company that offers sewer camera inspections in Fort Myers and throughout Southwest Florida. We can detect if there is a leak somewhere in your system. We do so in a non-invasive manner that doesn't destroy your property.
Not sure if your sewer lines are leaking? There are a few common signs you can look out for:
Backed-Up Sinks, Toilets, or Drains
Lush, Bright Green Patches In Your Lawn
Indentations In Lawns
Slower-Than-Usual Drains
Foul Odors
Have you noticed one or more of these problems in your home? You should give our Southwest Florida sewer camera inspection team a call. We can investigate the problem and provide a reliable, lasting solution.
Sewer Camera Inspection Services Near Me
American Leak Detection of Southwest Florida is ready to get to work once we uncover the problem. Cracked, leaking, or blocked sewer lines can be quite disruptive to your life. But, they are fairly common and most issues can be fixed pretty quickly. Whether the problem resulted from the age of your pipes, we have the tools to provide a lasting solution.
At American Leak Detection of Southwest Florida, customer satisfaction is our top priority. We want to build lasting relationships with our customers so they turn to us in the future. Our technicians always treat your home with respect and clean up when we are finished.
We complete jobs on time, and we are transparent and honest with our pricing. Home plumbing problems can be disruptive and aggravating. We want to provide the peace of mind you deserve. We'll get your plumbing system working again and your day back on track.