Meet Our Staff
For trusted and reliable service, hire American Leak Detection of Montana
Tammy Rose
Operations Manger
Joined ALD in 2013
Tammy graduated from Spokane Community College in 2004 with an Associate's degree in Accounting. She and her husband, Ben, reside with their children in the mountains just north of Spokane where they enjoy spending time outdoors. Tammy is an avid gardener and enjoys growing organic produce in her year-round greenhouse.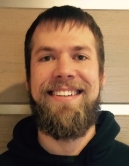 Tanner Marsh
Leak Detection Technician
Joined ALD in 2016
Tanner graduated from University of Montana with his bachelors degree in Archaeology. Currently he and his girlfriend Darci are enjoying beautiful Missoula, Montana with their pup Czar where they've lived for the past 8 years. When Tanner isn't working, you can find him up in the mountains biking, hiking, and snowboarding!