Meet Our Whitmore Lake Leak Detection Staff
For trusted and reliable service, hire American Leak Detection of Southeast Michigan
Steve Walker
Manager / Leak Specialist
Since 2003
Steve is a graduate of Eastern Michigan University with a degree in Business Administration. He is team leader, advisor, and manager of the SE Michigan office. Steve takes pride in being the best area leak detection company and is always on the lookout for the latest methods, strategies, and technologies to ensure that he and his staff are well equipped to handle all of your water-loss needs. Although he is occasionally regulated to office work while handling his managerial duties, you will often find him out in the field working with other leak specialists, ensuring the best possible leak detection strategies available. He is a big science fiction movie buff and enjoys traveling with his wife and daughter.
Mike Durussel
Senior Leak Specialist
Since 2013
Mike is a fountain of knowledge in many different areas, including the building trades, and is the team trivia wiz. "Did you know a water drip every second will always equal 8.64 gallons per day?" Being the Senior Tech, he has seen a wide range of different scenarios involving water loss and detection. Mike uses experience and critical thinking to determine the best course of action when it comes to your leak detection needs. He is really good at thinking outside the box in some of the more unusual or unpredictable settings.
Kevin Feldt
Leak Specialist
Since 2016
Kevin currently holds a Michigan and Illinois journeyman plumber license and has been in the plumbing industry for over 20 years. He immediately fit into the leak detection team because he has a strong moral character, a belief in providing the highest quality product or service, and is very thorough in everything he does. He has a large extended family that he spends most of his spare time with. He grew up 20 minutes from Busch Stadium in St. Louis, Missouri and is an avid Cardinals fan.
JOSH Hough
Leak Specialist
Since 2018
Josh comes to American Leak Detection from Florida, where he worked in the pool industry for close to 10 years. The last two years of Josh's career in Florida had been dedicated solely to pool leak detection. However, Josh wanted to learn more, so he came back home to Michigan to work for American Leak Detection and learn all aspects of our business. Josh has an analytical mind, with the ability to incorporate his prior pool building experience toward finding some of the more unique leak situations that American Leak Detection comes across. Josh works well with our customers and is dedicated to providing the best service that possible.
Shawn Scott
Leak Specialist
Since 2017
Shawn has been in the service industry helping customers for most of his life. After close to a decade of working in politics, Shawn decided he wanted to spend his life making an honest living. The change in careers has been refreshing, and he is determined to excel as a specialist. Not only is he friendly, but he strongly believes in taking care of his customers on all fronts by giving them the best leak detection service possible. He is loyal to his customers and often can be seen going above the standard job in order provide the best service available.
Donna Brown
Customer Service Representative
Since 2015
Donna brings many years of experience in various forms of customer service and accounting, from managing small local businesses to working for worldwide corporations such as Absopure Water Company. Adding to her job experience, Donna graduated from Washtenaw Community College in 2011 with an Associate/Business degree in Accounting. She and her husband reside in Whitmore Lake and enjoy boating with their daughter and grandkids.
Alana Rickett
Customer Service Representative
Since 2018
Alana has been with American Leak Detection since the beginning of 2018, and bringing a serious passion for the job with her, right from the start. She is a fast learner, having picked up almost all aspects of the office in just a few short months, and has quickly become one of the most valued employees in the Whitmore Lake office. Her excellent customer service is evidenced by the fact that the American Leak Detection field technicians are constantly getting compliments from our customers regarding "that wonderful young woman I spoke to on the phone." She is currently enrolled at Oakland Community College where she is majoring in Social Work. Judging from the work she has done so far with American Leak Detection, she has a wonderful service career ahead of her.
Martina Schapman
Business Development Representative
Since 2015
Martina graduated from Lincoln Memorial University, where she obtained a Bachelor's Degree. Since starting with American Leak Detection, Martina has been instrumental in informing industry professionals of our specialized leak detection services. She has developed many strong business relationships with Property Managers, Insurance Companies, and other industry professionals. She constantly monitors the scheduling process and follows through to make sure each problem is solved in a timely manner and to the customer's satisfaction. This had made her a terrific asset to our team!
"I enjoy being part of this great company and helping my fellow employees and customers the best way I can."
Thomas Walker
Corporate Trainer
Since 2001
Thomas started out as a Leak Specialist in our Southeast Michigan Office and has helped develop many of the methods used at our local office. In 2015 Thomas became a Corporate Trainer and now travels across the world teaching new and experienced Leak Specialists on the latest leak detection equipment and methods. In the last two years, Thomas spent time in Michigan, Massachusetts, Indiana, Florida, California, Texas, and Australia. Although he does not get back to Michigan too often, he is often in contact and can be a valuable resource on those strange or unusual leaks.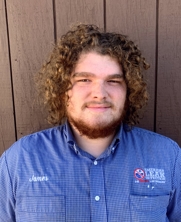 James Mitchell
Tech
Since 2019
James has a great background in science and robotics. His five-year goal is to develop an underwater leak detection drone. He uses his passion for how things work to evaluate and diagnose customer problems. Although typically quiet, he has a great understanding of leaks and will surprise you with his witty humor. He is very hardworking and will persevere until the job is complete.