American Leak Detection of New Orleans
Service Areas:
Serving New Orleans, Northshore, Wilkinson, Amite, Pearl River, and Hancock Counties, MS.
Leak Detection in New Orleans
Do You Have a Leak? Call
(504) 608-4009
If you think you may have a leak, it's important to find and repair it right away. If left undetected, even small leaks can end up costing you money—both on your water bill and by damaging your property. American Leak Detection™ offers reliable leak detection in Baton Rouge, New Orleans, and the surrounding areas. Thanks to ongoing training courses and state-of-the-art equipment, our highly-skilled service professionals are prepared to tackle even the toughest of leaks, saving you time, stress, and money.
Leak Detection Without Destruction™
At American Leak Detection of New Orleans, we treat your property with respect. Our technicians rely on the latest leak detection technology and techniques, including non-destructive methods that won't damage your property.
When you need general leak detection services in New Orleans, call on us at (504) 608-4009.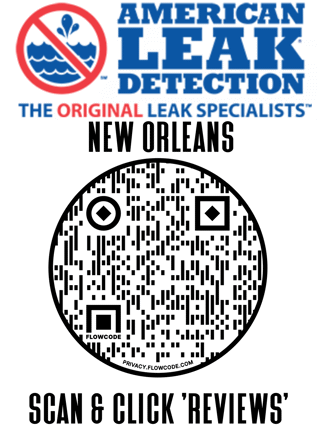 30th Year In Business!
As a locally owned and operated leak detection company in Southeast Louisiana, we have strong ties within the community. We take the time to find the cause of the problem and create personalized solutions for the homeowner. We also explain all of this to the customer, so that they can make an informed decision to correct their problem.
---
When you need leak detection services in Southeast Louisiana, or Wilkinson, Amite, Pearl River, or Hancock County, you can count on American Leak Detection for:
Prompt, on-time arrivals
Expert, accurate leak detection
Friendly, professional service
Quality, lasting workmanship
Our leak detection specialists will leave your premises clean after completing a job, and we offer honest, upfront pricing for every job we take on.
Think you might have a leak? Give us a call at (504) 608-4009.
It's been COLD! How Do You Handle Frozen Pipes?
You should keep the faucet open. As the frozen area starts to melt, water will flow and running water will help ice melt in the pipe.
Apply heat to frozen areas using an electric heating pad wrapped around the pipe, an electric hair dryer or towels soaked in hot water.
Use a portable space heater, kept away from flammable materials, to warm under the house. Never leave the heater unattended.
Apply heat until full water pressure is restored.
If you cannot find the frozen area, or if the area is not accessible, or you cannot thaw the pipe, call a licensed plumber.
DO NOT use a blowtorch, kerosene, or propane heater, charcoal stove, or other open flame device.
People Choose Us for a Reason. Learn Why!
Non-Invasive Approach

Leaks can be expensive, but they get even more costly if your leak detection specialist destroys your property to locate the source. That's why we detect without destruction.

Transparent Pricing

You get an accurate, upfront quote before we start any work. All quotes are based on your specific situation, your property, and our expert recommendations. Nothing more, nothing less.

Industry Expertise

We are THE original leak detection specialists. That means you benefit from more than 40 years of hands-on industry experience, our state-of-the-art technology, and our professionals.

Peace of Mind

Our highly-trained professionals are among the most experienced and seasoned technicians in the industry. Simply put, you cannot find a more qualified team anywhere else.
Erosion of the soil supporting your foundation or pool deck
Sewer backup resulting in having to vacate the property
Flooding which can damage your structure and furnishings
Damage to your pocketbook from high water and energy bills
Mildew build up with the potential for health problems
The waste of our most valuable resource: water
5 Star Reviews From Past Customers!
Keeping Your Family & Home Safe
American Leak Detection

"The technician that came to our home was superb!"

- Anonymous

American Leak Detection

"Very thorough and knowledgeable!"

- Chad S.

American Leak Detection

"Don't waste money and time by calling someone else!"

- Doug M.

American Leak Detection

"Excellent service!"

- Debra A.

American Leak Detection

"He was professional, courteous and thorough in his diagnosis and explanation of the problem."

- Anonymous

American Leak Detection

"Your technician was very professional and explained the procedure to us and explained what he found."

- Anonymous

American Leak Detection

"Your technician was the nicest service man I've ever had at my house."

- Anonymous

American Leak Detection

"The spot you said we should start on was right on it."

- Anonymous

American Leak Detection

- Regina L.

American Leak Detection

"Excellent this is the thrid time we have had to use ALD and we are very satisfied."

- D. F.
View All Testimonials
View All Testimonials
Where Is Your Leak?
Our highly-trained service professional will come to your property to assess and fix your problem in no time!
Have Your Water Problems Solved in 3 Easy Steps
Step 1

Your Location:

New Orleans Change

Step 2

Step 3

Consult with a
Leak Detection Specialist