Professional Anti-Entrapment Drain Cover Installation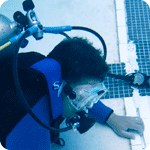 Certified divers are available near you to professionally install your anti-entrapment drain cover.
Entrapment Danger!
Under certain conditions, the suction from drains in swimming pools and spas can entrap swimmers underwater.
Replace old flat drain covers. Never use a pool or spa with a missing or broken drain cover.
Have a professional regularly inspect your pool or spa for entrapment or entanglement hazards. Ask them to clearly mark the location of the electrical cut-off switch for the pool or spa pump.
Install a Safety Vacuum Release System (SVRS) to automatically shut off a pump if a blockage is detected.
If someone is trapped against a drain, turn off the pump immediately.
Pry a hand between the drain and the person's body to break the seal, instead of trying to pull the person away from the powerful suction.