Meet Our Staff
For trusted and reliable service, hire American Leak Detection of Coeur d'Alene
Tammy Rose
Operations Manger
Joined ALD in 2013
Tammy graduated from Spokane Community College in 2004 with an Associate's degree in Accounting. She and her husband, Ben, reside with their children in the mountains just north of Spokane where they enjoy spending time outdoors. Tammy is an avid gardener and enjoys growing organic produce in her year-round greenhouse.
Jordan Marsh
Sr. Leak Detection Technician
Joined ALD in 2007
Jordan has enjoyed the challenge of finding leaks and helping customers since 2007. He currently handles surveys, correlating for municipalities and water districts. Insurance issues and service lines keep him busy too. Jordan and his wife, Jami have two children, Jasper and Stella. Their family enjoys hiking, camping, snowshoeing and snowboarding.

Ryan Johnson
Leak Detection Technician
Joined ALD in 2015
Ryan graduated from Colorado Mountain College in 2009. His love of the outdoors brought him back to the Pacific Northwest in 2012. Ryan joined ALD in 2015 and earned his scuba diving certification for pool leak detection. Ryan is enjoying learning all there is to know about this industry!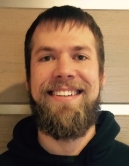 Tanner Marsh
Leak Detection Technician
Joined ALD in 2016
Tanner graduated from University of Montana with his bachelors degree in Archaeology. Currently he and his girlfriend Darci are enjoying beautiful Missoula, Montana with their pup Czar where they've lived for the past 8 years. When Tanner isn't working, you can find him up in the mountains biking, hiking, and snowboarding!
Sam Connery
Leak Detection Apprentice
Joined ALD in 2017
Sam graduated from Post Falls High school and began attending class at North Idaho College. When he's not busy learning all there is to know about leak detection, he enjoys construction and spending time outdoors with his friends and family. He has 4 brothers and 4 sisters!