Fort Worth Slab Leak Repair
Slab leak repair Near You
There is no time to lose after our highly trained technicians from American Leak Detection of Fort Worth detect a slab leak. It's time to get it repaired. Thankfully, you don't need to search again for a slab leak repair company. Our licensed and reputable plumbers can handle all the slab leak repairs for you.
We always prioritize your satisfaction. This means considering cost-effective methods, not just whatever is the most expensive. It is our mission to make certain your home or business is resting on a reliable foundation. We don't settle for anything other than a job done completely and correctly!
---
Schedule a slab leak repair or detection service in Fort Worth today. Dial (817) 385-9410 or schedule an appointment online!
---
What Causes a Slab Leak?
There are typically two types of slab leaks:
Waterline leak: If a water line under your home breaks or becomes loose, it can start leaking water. Since it is down under your home and the foundation, you will not know about the problem right away. A hint that something is wrong is if your water bill spikes enormously.
Sewer line leak: If a sewer line becomes damaged, it can start to spill hazardous wastewater into the soil and foundation. Sewer line slab leaks are usually slower than a waterline slab leak. This is because it only leaks when you flush or wash wastewater away, but it is still a huge problem. If you smell foul odors around your home that can't be explained, then it could be a slab leak.
Why do waterlines and sewer lines under your home break or start leaking? This varies from situation to situation, though. In some cases, old pipes can become corroded to the point that they leak water.
For homes on unstable land, a shift in the soil can snap the pipes under your slab foundation. Even a cold snap that affects Fort Worth could freeze the soil and the pipes in the ground. This causes them to burst as frozen water expands into ice.
Signs you might Have a Slab Leak
Wet spots - If you have a water leak in your home, it will eventually start to seep through the cracks in your foundation and cause puddles of water to form on your floor.
Cracks in the walls or ceiling - As water leaks from your pipes and seeps into the soil around your foundation, it can cause the soil to expand and put pressure on your foundation. This pressure can cause cracks to form in your walls or ceiling.
Warm spots on the floor - Water conducts heat better than air, so as water leaks from your pipes and seeps into the soil around your foundation, it can cause the soil to heat up. This heat will then be conducted into your home, causing warm spots on your floor.
Higher than normal water bills - All the wasted water will result in higher than normal water bills.
The sound of running water - A clear sign of a slab leak is when running water can be heard even when no fixtures are in use.
---
Looking for help with slab leak repair in Fort Worth? Reach out to American Leak Detection of Fort Worth at (817) 385-9410 or schedule service online.
---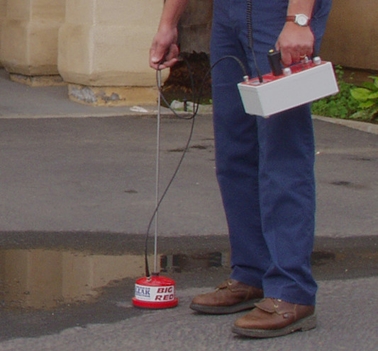 How Dangerous is a Slab Leak?
No matter what type of slab leak is under your home, it's a problem. Slab leaks of any sort can wreak havoc to your home and possibly put your family in danger.
Three of the worst consequences caused by a slab leak are:
Structural integrity loss: The foundation of your home is there to keep it steady and level. A slab leak will inundate the concrete slab to the point that it can erode it or make it porous. The weakened slab can start to crumble. This may cause your home to shake, tilt, or collapse in extreme circumstances. Slab leaks can also soak into the woodwork of your home. It will weaken the structural integrity by making the wood soft and flexible.
Water damage: A slab leak can cause water damage throughout the first floor. Water that soaks into the foundation can reach the carpeting and cause mold growth. It can warp wood flooring and warp walls, too.
Water utility issues: An unchecked slab leak will increase your monthly water bills. At a certain point, your local water utility company will likely shut your access to the water main off. This will be when they see you are using an exorbitant amount of water. Getting a slab leak repair from American Leak Detection of Fort Worth is a service that pays for itself. By preventing extreme water bills, you avoid losing access to municipal water sources.
Repairing a Slab Leak Correctly & Affordably
Wondering how to fix a slab leak yourself? It isn't an easy job, and the key to an effective slab leak repair is the knowledge and experience of the team you hire to handle the job. A rookie slab repair technician might try to tear up the entire first floor of your home to repair the slab leak.
Choosing our Fort Worth slab leak repair technicians will connect you with professionals. They know what they are doing, what to look for, and what to do to repair a slab leak with minimal disruption to your home.
WILL INSURANCE COVER A SLAB LEAK REPAIR?
Some jobs will require us to repair only the damaged section of your waterline or sewer line. Other projects may require more extensive repiping when the damage is also extensive. The goal is to plan for a repair that will last but that also gets you the service you need without tacked on upsells.
If you are worried about the cost of slab repairs, you should know that most homeowners' insurance policies will help pay for the service. We would be happy to help you figure out if your insurance policy will apply for your slab leak repairs.
---
Get slab leak repair services in Fort Worth now! Call American Leak Detection at (817) 385-9410 or schedule service online.
---